Views) :
By Mahesh DeAndrado
The Colombo City Council and The Carter Center, a US-based non-profit organization, launched E-Diriya, a mobile app to help keep women safe while traveling. The app was launched for Women's Day this year.
What exactly is E-Diriya?
The app aims to provide information and support to women in an emergency or if they are in danger. Think of it as a platform that would provide women with the required knowledge and highlight the many support systems available to women in the Colombo district.
Use E-Diriya
After installing the app, I was impressed with the ease of use of the app. The app is trilingual which means it is available in English, Sinhala and Tamil. Once you have selected your language, you must create an account by entering your name. Once done, the next step is to fill in your emergency details. These include a name, relationship to said contact, and their contact number.
E-Diriya will also request access to your internet via mobile data or Wi-Fi and the location of your device. These details are used to triangulate your location and provide you with a list of important areas (more on that later). Once all this was done, E-Diriya was ready to go.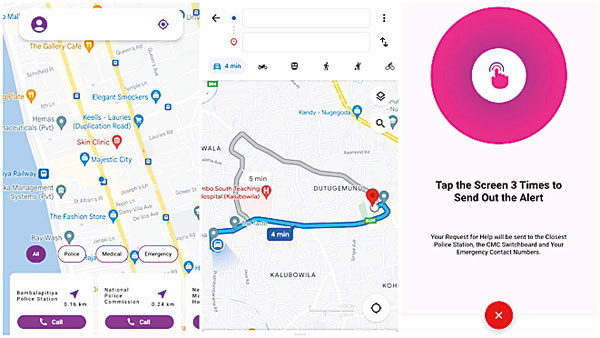 The first thing I noticed was how neat the interface was. It's easy to navigate and understand the key things you need in an emergency. The app uses the Google Maps API and shows you the nearest police stations, hospitals and other essential places/points of interest. The distance to each location is also shown, along with directions to get there via Google Maps. You can also make a phone call directly by pressing the "Call" button at each location.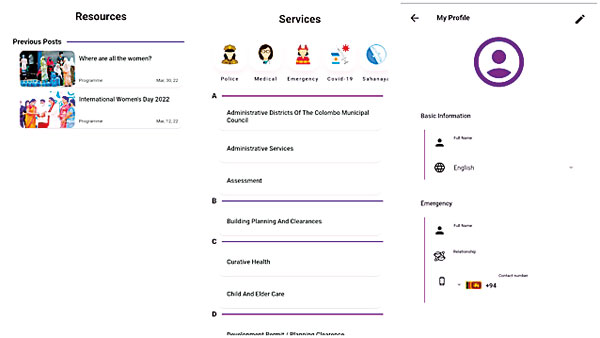 Located in the bottom center of the application is an important feature of E-diriya; the SOS button. Press the button and you will be taken to a screen where you will be asked to tap three times if you are in an emergency or potentially dangerous situation. Once you type it, an alert will be sent to the nearest police station, CMC switchboard and your emergency contact.
In addition to these features, E-Diriya also includes a resource section that provides useful topical articles on women's empowerment and personal safety. There is also a Services section which lists all major police, medical, emergency, COVID-19 and other services if you need help or need to contact them. Finally, the "My profile" function allows you to modify/update your basic information and your emergency contact details if necessary.
How effective is E-Diriya?
Since the time I had with the app, I must say that the initiative is indeed commendable. Although it is aimed at helping women, it can be used by anyone. Google also has its security app that works the same way. In the app you can do security check and have emergency share. With a safety check, you can set a timer (eg, a time) and a reason for the timer (go for a walk/run/carry).
If there is no response from you after the time has elapsed, the app will immediately notify your emergency contact and you can also contact the emergency services (in Sri Lanka, 119).
With Emergency Sharing, you can share your location in real time with your emergency contacts until you turn off sharing.
Go to root
of the problem
But there are certain other points that one must also consider. To begin with, E-Diriya mainly focuses on helping women in the greater Colombo area. If steps were taken to launch it in other parts of the country as well, it would be beneficial.
It is up to each of us, as a society, to rally and unite to keep women safe, no matter who they are to us.
Unfortunately, the current context considers that women's values ​​are almost always defined in relation to others (someone's mother, sister, daughter, etc.) and not as individuals.
You can download the app from the Google Play Store or visit the E-Diriya website (http://www.ediriya.org/).
Looking for your next furry family member but can't find one in your area? Hitad.lk has the solution with our many lists of dogs for sale in Sri Lanka!